Article from: My Fabulous Disease (Mark S. King)
---
The annual Folsom Street Fair in San Francisco is noted for its unbridled embrace of every kinky star in our sexual constellation. Even the fearless leather community that founded the event can sometimes appear tame amidst the outlandish costumes and clothing – and lack thereof – on display along the city's tilted streets.
In the middle of this rowdy bacchanalia in the fall of 2003, Paul Morris stood at the booth for Treasure Island Media (TIM), the renegade gay porn outfit he founded that features sex without condoms between its actors. This particular specialty was the singular driving force behind his smashingly successful company.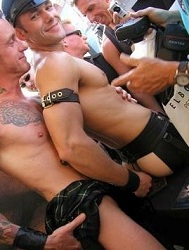 Then, like the Hollywood legend of starlet Lana Turner cozying up to the counter at Schwab's, a beautiful and achingly masculine young man approached the TIM booth. He liked the TIM videos, he liked them very much indeed, and he hoped to one day document a few fantasies of his own.
TIM star Jesse O'Toole was on hand and someone snapped a photograph of the two of them together (right). In it, the grinning young man with a leather cap appears to have found his long lost tribe, and O'Toole looks as if he has found a seven-course meal.
The photo was sent to Treasure Island director Max Sohl, who met with the aspiring model and asked him to complete a form that included a simple question: What is one of your fantasy scenes? In response, the young man wrote simply, "me getting nailed and seeded by a gang of hot guys."
"The Black Party was coming," Sohl explains, referring to the annual New York City weekend of leather men, parties and sexual adventures, "and I thought, 'Okay. Let's see how many men he can take.'"
And that is how Dawson's 20 Load Weekend was born.
Prior to the onset of AIDS, condom usage in gay pornography was nonexistent – but that was before bodily fluids became synonymous with death and disease. For well over a decade after the crisis began, gay porn videos featured not only tightly wrapped penises, but their storylines – indeed, the actors themselves – suffered from a sort of dramatic malaise, as if sleepwalking through their sexual routine while trying to pay no attention to the man with KS lesions behind the curtain. Many viewers simply returned to their stash of pre-AIDS pornography, which was condomless but "justified."
As AIDS deaths subsided with the advent of new medications in 1996, safer sex behaviors relaxed and there was a palpable longing to escape the horrors of the previous years. Younger gay men, who had listened to stories of an earlier, sexually liberated time as if it were a lost era of paleontology, were more than willing to explore whatever modern version might await them.
Unprotected sex since the arrival of HIV is nothing new – it is, after all, the primary reason for new infections that have continued fairly steadily since AIDS began – but in the late 1990's the term "barebacking" entered the public lexicon. The irony may be that a new word was coined for the oldest sexual activity imaginable: having sex without a barrier. It wasn't the sex that had changed, but the meaning and judgment associated with it towards gay men. Or, as AIDS advocate Jim Pickett once said at an HIV conference, "When a friend announces they are expecting a child, I feel like screaming 'You barebacked!'"
But while passionate advocates argued about the reasons and the proper response to barebacking, no one had dared document it on videotape for the erotic pleasure of others. Yet.
In 1998, two companies formed to make bareback videos exclusively: Hot Desert Knights and Treasure Island Media (links definitely NSFW). The cheaply made videos brought the sexual choices of an increasing number of men out of the closet and onto DVD players and computer screens.
The videos were uniform in their low production values, the older ages of the actors, and the fact that several of those actors appeared to have the physical manifestations of HIV. It was as if a group of men who had literally lived through AIDS said, "oh, what the hell," and demonstrated the kind of sex they had been having among themselves for some time. Few believed the new genre would break the surface of mainstream gay pornography.
But then Max Sohl met that ferociously attractive man from the Folsom Street Fair who was so eager to "get seeded" by a string of strangers and, with the sexual zeitgeist now primed for their arrival, they made a film that would forever change the porn industry and quite arguably influence the sexual behavior of countless gay men.
Re-christened "Dawson," the budding porn star was served up in a hotel room over the course of New York City's 2004 Black Party weekend to a parade of bareback tops. Dawson's fantasy had been fulfilled, and Sohl had the footage to prove it. In June of 2004, Dawson's 20 Load Weekend was released and was precisely as advertised. 
It might first strike the viewer that the video was created in an unsettling world in which HIV is utterly absent; that is, until a particular sexual choreography is pointedly repeated again and again. Each orgasm is filmed to ensure the viewer knows that Dawson is receiving them anally.  You can practically hear a narrator whispering, "This is how gay men have sex. That is where semen belongs."
Depending on your point of view, it is either a transgressive act of eroticism or an incredibly irresponsible act that demonstrates how to become infected with HIV. Or both.
"Bareback porn companies have blood on their hands," became a common refrain among gay men and health advocates. Gay sex advice columnist Dan Savage equated the videos to child porn, believing they took advantage of the naïve and the vulnerable. Some accused TIM of making snuff films.
Dawson was wildly successful, ubiquitous wherever porn was shown. Adult bookstores which had previously shunned TIM videos responded to customer demand and began stocking them. Gay porn sites that once refused to feature bareback clips began including them. Soon, more companies produced bareback porn, and they were able to attract "collegiate jock" types who were younger, more muscular and the very picture of health and vitality. The faces and bodies in bareback videos had been transformed, erasing all evidence of HIV, much like the invisibility of HIV/AIDS in our broader culture.
When considering the legacy of his film, Sohl is more pragmatic than proud.  "I'm sure someone else would have done this," he said. "It just so happened to be us."
Perhaps, then, the film was a treatise on the kind of sexual liberation available to HIV positive gay men in a new era, demonstrating the "new normal" for those who take their meds, eliminate the viral activity in their blood, and "fuck freely and without fear," as TIM founder Paul Morris once put it. Or did it simply portray poz men as sluts, a charge leveled by disgusted (and possibly jealous) HIV negative men?
"What a person is seeing has more to do with them than with us," said Sohl. "I will see a scene online that I directed," he says, referring to the many porn sites that pirate pieces of his work and give them new titles, "and it will be renamed 'negative bottom takes poz loads,' as if it were a conversion scene. That says more about the guy watching it than what actually happened."
That relationship, between porn and viewer, is something of particular concern to some HIV prevention advocates who believe bareback porn encourages unsafe sex in real life. The entire equation has changed in recent years, however, with broad scientific consensus that people with HIV who have an undetectable viral load cannot transmit the virus, while HIV negative people can protect themselves with PrEP, the daily pill that prevents HIV infection.  
Dawson is, now and forever, featured on dozens of online porn sites, happily receiving the prize he so ardently desires. He and his progeny of newer porn actors crossed a line and they're never coming back. Bareback videos now outperform scenes of condom usage on every site that carries them – and nearly all of them now do. The "use a condom every time" message is long dead, drowned in buckets of bodily fluids by Dawson and his barebacking brethren — and, most importantly, by the adoption of scientific research.
Dawson's 20 Load Weekend redefined bareback porn and the men who appear in them. It depicted a prevailing truth about gay sexual behavior "post AIDS," and arguably encouraged risky sexual adventure-seeking. It led to the saturation of bareback porn online, making sex without condoms normative to whomever might be watching. Its impact on social culture, gay sexuality, and the adult film industry cannot be overestimated.
"Barebacking is a right," gay anthropologist Eric Rofes wrote twenty years ago. "After all, practically every straight guy in the world gets to do it without being told they are irresponsible, foolish, or suicidal… Barebacking is liberation. Barebacking is defiance."
How defiant, exactly, is an evolving assessment. In this age of international campaigns like Undetectable = Untransmittable, any gay porn showing sex without condoms simple doesn't have the shock value it once did. What was once risky and taboo has become safe (again), as new tools like PrEP, and maintaining an undetectable viral load, are becoming more integrated into the gay sexual terrain.
Which makes Dawson's 20 Load Weekend a fascinating relic from a very particular window in time. Aside from its rambunctious gang banging — a theme as old as porn, after all — it reminds us how far we have come in a few years, both in terms of HIV prevention strategies and an important new message now available to anyone.
We have the tools today to stop HIV infections, even among those with the most outrageous sexual fantasies.
(Photo of Dawson and Jesse O'Toole courtesy of Max Sohl and edited for content. Other images courtesy of Treasure Island Media [NSFW].)