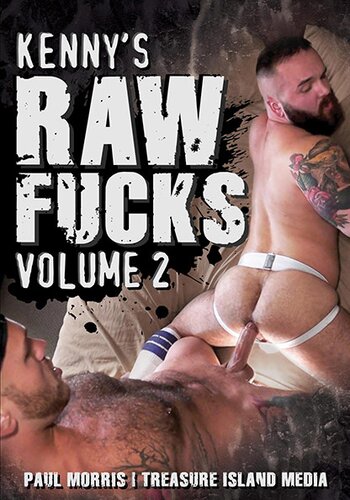 In case you enjoy sleeping under rocks and rock-like objects, you may have missed the news: Kenny's Raw Fucks Vol. 2 is premiering on TIMFuck RIGHT NOW – and isn't available anywhere else. We're halfway through the members-only debut, and scenes aired so far include the likes of Cash Logan and Parker Logan, Brian Bonds and Atlas Grant, and Dante Steele and Leon Fox.
You still have 2 weeks left to join to catch the premiere, and download the movie for half-off from the member store. You can get access to TIMFuck with either a TIMPASS (3-sites included) or TIMPASS+ (which includes all 6 TIM sites). Here's a rundown of the final 3 scenes airing soon from the 2nd edition of Kenny's Raw Fucks:
Sometimes the guys we meet are so horny to fuck, there is no time to wait around or set it up. That's what happened here, so Kenny grabbed a camera and took these two horn dogs to the back room of the office to get down to business. 
AIDEN WARD gives MATT ROUDY the once over from front to back! Starting his inspection with a rear entry taste test, he soon forgets his manners and starts lapping up Matt's asshole like a barnyard beast at the slop trough. Having his fill, Aiden turns Matt around and breeds him all over the office like the little fuck toy he is. This scene will release this week, on Wednesday 03/27/19.
This real-life pair fuck like goddamn animals – and we love every second. CODY WINTER has GUTTER PUP on a short leash while he teases and trains this cock hound to serve, obey, and satisfy. Cue trailer:
Roll Over! GOOD BOY!
Cody puts his pup in the right headspace and has him do some tricks. Holding his legs up for Master, he gives his hole up for Cody's pleasure. This scene will release next week, on Wednesday 04/03/19.
Holden Phillips Used at the Pool
No doubt, the pièce de résistance to the movie, HOLDEN PHILLIPS – with zero resistance – is the guest of honor at Kenny's super slutty pool party.
Drew's massive cock is only the first to enter Holden's innards, stretching him open so each big dicked top man can step in and easily load this boy's ass up. They take turns, Daddy Pig & Pig egging each other on. They toss him back in the pool for some sweet man piss before breeding Holden's hole one after the other. This scene will air next week, on Saturday 03/06/19.
If you enjoyed the previews, there's a lot more in store for you when these scenes release in full. If you haven't joined yet, you're missing out on some kick-ass porn and a fuck-ton of discounts on everything from toys to p̶o̶p̶p̶e̶r̶s̶  cleaners to apparel. If you want in on the fun, hit those buttons below! Use the coupon code 578S4IDF for $5 off your first month