Big macho cocks, stuffed in tight Latino ass. All raw, all dominant breedings… just how nature intended.
Don't Pull Out is the new Treasure Island Media movie by director ADAN MEDINA, taken straighten from the south of the border. Don't Pull Out includes seven full scenes of spitroasting, ruthless poundings and multi-load cumpdumping. We've even packed all the horny cumshots into an eighth reel for your pleasure!
Scene 1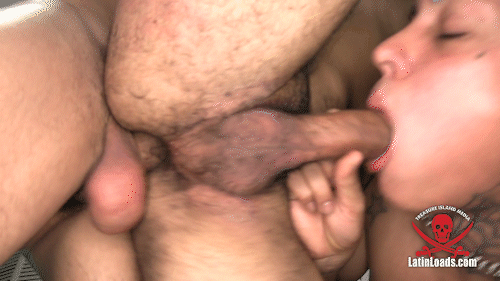 ALBIS OCTAVIO gets a double dicking from super handsome ALEX HOT and TYGA. While the guys are sucking, Albis sits right down on Tyga's dick and fucks his hole with the rock-hard cock. While he is riding, his mouth hole services Alex's fine uncut meat. The men then switch as Albis' cumhole goes from one cock to the other.
The guys move to a standing position where Alex impales Albis. Tyga comes up from behind and slides his dick into his top bud Alex's hole while the middle man's dick is still buried deep.
Albis becomes the designated bottom again and the guys use his hole in several positions until they breed him one after the other. Full of cock and cum, Albis shoots his load.
Scene 2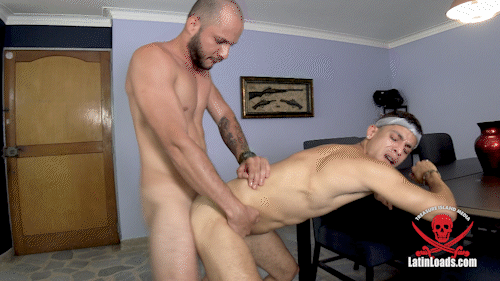 We know you love seeing KAMILO RIOS top, now we get to see him show off a different side and take care of aggressive topman JPACK's dick. Kamilo starts by sucking his bud and licking his balls to coax the cum from JPACK's nuts. JPACK fucks then fucks his throat good.
If you have seen JPACK in action, you know he wants to fuck. Kamilo bends over the table and sticks his bubble butt up in the air, presenting his slutty ass for JPACK to use.
After the bent over pounding, Kamilo gets on top and rides JPACK's dick doing his best to milk the shaft with his hole. JPACK puts him on his back and starts to ram his dick hard and fast until he cannot hold back and his cum shoots right into Kamilo's ass.
"Look at that ass filled with cum."
Yes Daddy, we can see. Kamilo ends things by jerking out a load and spilling his seed all over the floor.
Scene 3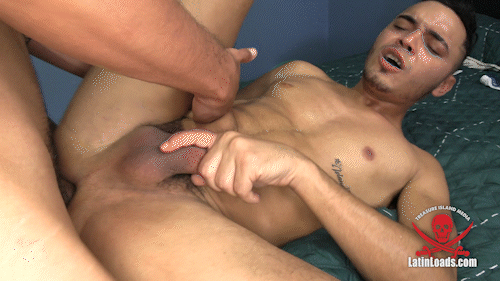 It is TIZANO CARTES' lucky day in that he has TERCERO BORGES willing to service his cock and give him some warm man-hole to fuck. The top gets an intense blowjob before bending Tercero over the bed and sliding his dick in.
Tizano takes control of his bottom boy, pounding him hard. The guys then fuck with Tercero on his side, his used fuckhole fully exposed to meaty cock. Tizano directs his slut to bounce on his dick until he's close to blowing, with Tercero spreading his legs wide so his bud can fuck his load out.
The bottom boy then jerks off while the top pulsates his last squirts of cum into his loosened ass. Tizano then fingers in the rest to make sure it is all where it belongs.
Scene 4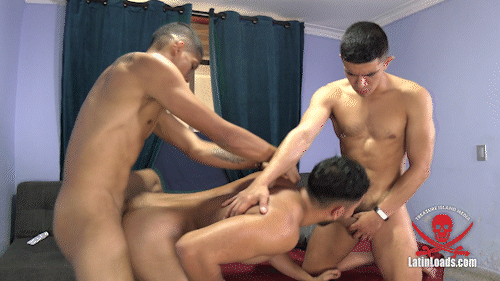 Latino jock TOTO CARLOS gets up to watch NEMO NARUTO shower. His cock getting harder every second as his bud towels himself dry. Meanwhile DARIO BOOM is in the bedroom jerking off and ready to fuck. After getting sucked, Toto drags Nemo to the bed and gets him up on all fours. Dario sticks his cock between Nemo's lips, while Toto gets to work on the bottom's ass.
The two tops take turns fucking Nemo's holes, switching back and forth from ass to mouth. Making his move as Alpha, Dario gets behind Toto and puts his cock in the other top's hole, forcing a pleasured groan out of his buddy.
Toto then fucks Nemo on his back with his legs up, while he tastes his own ass on Dario's dick. The two bros get Nemo pinned down on the bed and start to fuck to nut. Dario shoots first planting his seed so that Toto can use it for lube. With jizz leaking out of the hole, Toto slides in and breeds his own load, leaving Nemo's filled to the rim.
Scene 5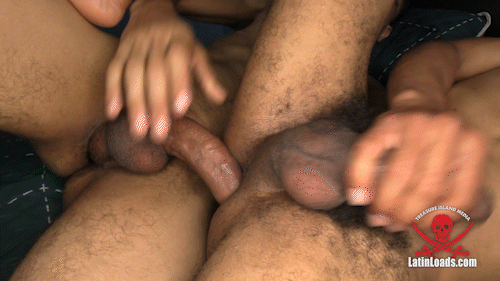 Everyone loves MAXIMO PUGA and his 9-inch savage uncut cock. EDDIE SANTIAGO is ready and willing to take care of Maximo's manhood and offer his hole for the giant shaft.
Eddie sucks Max hard and then gets on top of the legendary cock to ride it. At first Eddie is in control of the fuck, but Maximo soon takes over and even from underneath pile drives his prick in, turning Eddie into a human fleshlight.
Ready to nut, Max gets Eddie on his side and power pounds him until he shoots his FIRST load. That's right, we got Maximo on a day when he is particularly horny and after enjoying the hole, he just keeps fucking until he cums a second time. Eddie submits and is so turned on by getting the second nut, his own cock shoots right after Max does.
Dang, that is a lot of cum.
Maximo finishes things off by taking a little piss on Eddie's ass, washing all his jizz inside.
Scene 6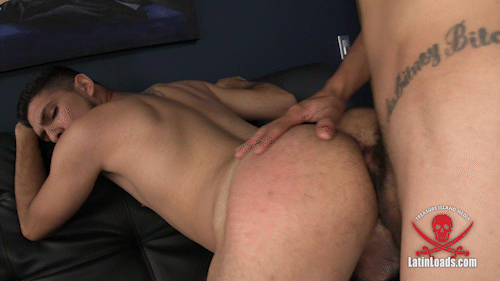 LUCKY BALVIN is horny. He is already hard and raring to go when JUANES VIVES pulls down the top's pants and reveals Lucky's meat.
Juanes has a fine meaty butt that he offers up in the air for Lucky to own. Lucky slides in and fucks the bottom how he prefers – like a dog in heat, power ramming his ass.
The guys move to the bedroom where Juanes is dumped and pinned down, unable to get away from Lucky's hard thrusts. The top fucks and fucks until he cannot hold back and his cock squirts against his will, then he keeps on pounding until he nuts a second time, flooding his new bitch's asshole.
The second load is bred fully inside Juanes' hole and the slutty bottom is pushed over the edge as he unleashes his own load.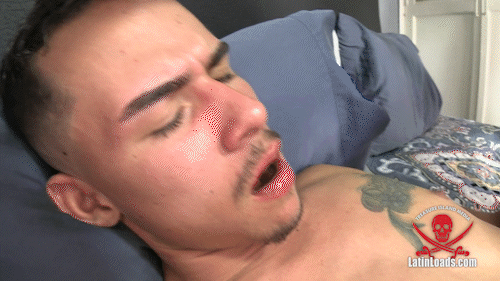 LATINLOADS features the hottest, roughest man-fuckers from south of the border. Brutal, deep and never-ending hole wrecking. You want it, we've got it.
Don't Pull Out features: Lucky Balvin, Dario Boom, Tercero Borges, Toto Carlos, Tizano Cartes, Anthony Cruel, Alex Hot, JPACK, Nermo Naruto, Albis Octavio, Maximo Puga, Kamilo Rios, Eddie Santiago, Gabriel Sucre and Juanes Vives.