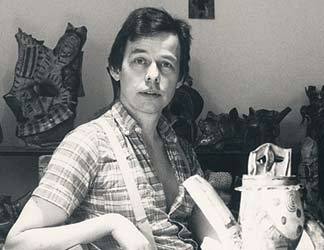 Angus Suttie
    (November 26, 1946 – 1993)
    Sign: Scorpio
"The attempt to mould me 

to what was expected of a boy growing to be a man were as persistent in school … games in particular became something which I dreaded. 

Football was compulsory and for boys such as me who were not good at it, we were made to feel not only that we were personally worthless 

but aberrant and morally wanting … Growing up was painful."
Known for his striking and often abstract ceramic designs,
including extraordinarily colorful and whimsical riffs on traditionally functional objects such as teapots and cups.  As his health declined near
the end of his life, his designs became more extreme, incorporating sharp points and thorn-like projections. 
"Faggot Forefathers" is a weekly series highlighting the lives of historically significant gay men and their contributions to our world.