Sexy Stud Silver Steele has been out on the road sucking, fucking, and representing Treasure Island Media and TIMGEAR. In the last several weeks Silver has been bouncing around from state to state inspiring boners for gay themed events across the country. If you're in Wisconsin, you may have seen him for Madison's pride events. For those of y'all in New Orleans hopefully you caught him and the incomparable Dolf Dietrich at one of their live shows during Southern Decadence. They say there's no rest for the wicked, but the sinfully studly Silver Steele took a moment to answer some questions about travel, what gets him hot under the collar, and what heats him up in bed.
On Staying Fit:
"The absolute worst thing for my fitness is travel. Mainly because hotel gyms are awful and I am often too busy when I'm traveling to work out (like at Southern Decadence). Fortunately, I'm now a member of a gym that has at least 2 or 3 locations in every city and my membership is good at all of them so that's helped considerably. They even have one in Bangkok!"
How to Wind Down:
"…one thing I love to do is eat out. There is something very relaxing and chill about not having to think about food, and just having it brought to me, along with a stiff drink."
Travel Pet Peeves
"When I'm alone, it's businesses being closed when I need to buy something or get something to eat. When I'm traveling with people, it's them being late. I'm a bit obsessive over punctuality."
What He Misses Most Traveling
"Oh, that's easy. My partner of 11 years and my sweet little dog of 8 years.
Although, I, like many gays, get serious event FOMO when I see my friends on social media doing fun stuff in Houston without me."
Traveling Must-Haves
"Gotta have my douche and lube! But I think that's probably par for the course for all gay men.
One thing you will always find in my luggage is a harness. I'm the proud owner of 26 different ones at the moment, and no matter what city I'm in, I can find a bar or event where I can wear one with style."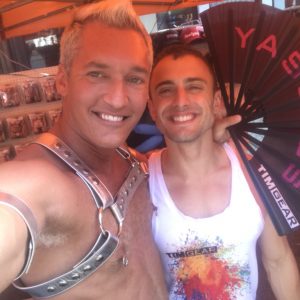 Hobbies and Interests 
"Generally only my friends know this, but I'm a HUGE costumer. In my living room are 6'6″ feather wings (attached to a harness of course) on a dress form, I own a fully functional merman tail that I've brought on cruises and gay beach-based trips, and a slew of other custom made-to-order costumes with props that are often characters from cartoons, movies, and video games."
Advice for New Models
"Don't be afraid to totally put yourself out there on social media! Studios and other models watch and take notice!
Upload those pics and vids, and by all means interact with models and studios you want to work with. And most of all, make sure you have a quality or skill that stands out."
Turn Ons:
"There are very few things that turn me on more than the smell of a man. I've often told people smell is one of our most primal and emotionally connected senses. Give me a guy with musky pits and a ripe crotch any day."
Turn Offs:
"Drug use (weed and poppers are fine). My beef with it is that when I'm having a sexual experience with someone, whether it's with someone I love or even just a random hookup, I want to connect with them.
In my experience when someone is using, they're often wrapped up in the chemical euphoria and are really just having an experience with themselves where my dick is the sideshow assisting them to get to some place sexually. Not my bag. Be in the moment with me."