As World AIDS Day approaches and the year winds down its always a good time to reflect and give back. Mr. and Mr. Snowbound 2016 are preparing another year of donations to support people with AIDS who do not have access to medications. Our friends Jeph and Kevin Barry founded the Divergent Donations Foundation to assist Aid for AIDS International and the AIDS Support Group of Cape Cod. 
These guys are the real deal, They're a great example of talking the talk and walking the walk. They've already raised over $281,000 and their non-profit isn't ready to stop there. 
Treasure Island Media has been worked with Divergent Donations in the past, and this year is no different. For their fundraising auction this month we're sending hundreds of dollars worth of TIM branded merchandise to be bid on during the annual event.
You can learn more about these two incredible, sex-positive, leather daddy philanthropists by visiting their Go Fund Me 
Registration for the auction will be done through the foundation's eventbrite.com event page from November 10, 2018 through November 27, 2018. Members must register on the website or have donated to the foundation during the past year to be eligible to participate in the auction.
The Eventbrite page can be found at https://divergentpremierauction.eventbrite.com
To see some of what they've accomplished in the past, check out the youtube video below.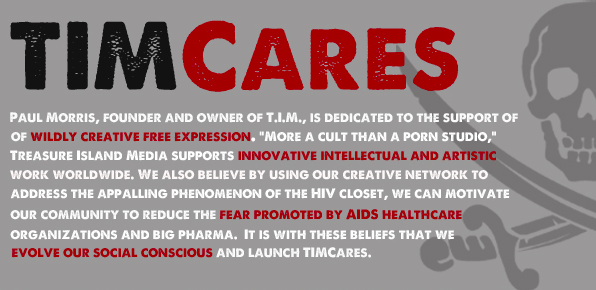 Treasure Island Media donates merchandise and products to worthy sex-positive organizations worldwide.
If you're part of an organization that shares our vision feel free to reach out to us at pr@treasureislandmedia.com and inquiries about the program.