Packed with flesh and fucking, everywhere you looked hot men with hard dicks and perky butts filled the dark rooms and corners.
That's how Treasure Island Media's first London sex party in 10 years was left sore after a sell-out crowd of horny fuckers partied and pounded each other for eight hours solid.

See below for all the pictures from the night
The event was held at London's infamous Hard On sex and fetish club which was also celebrating its 19th birthday.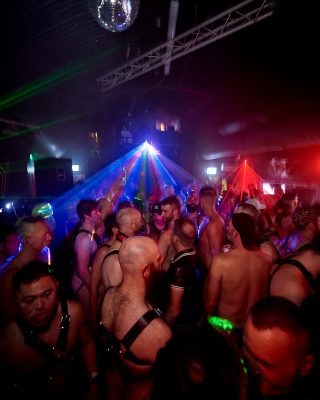 With a group of our UK models on hand to pass out free shots and party bags on the door, it took no time at all to get the party started.
Tommy Trash, head of TIM Europe, said: "Having been going to Hard On for years, I can tell you this was one of the best.
"Everywhere you looked hundreds of men were fucking and partying and letting themselves go – it's exactly what we hoped for.
"We threw this party to celebrate the reboot of our filming here in the UK and to let everyone know we're here to bring their deepest and darkest desires to life."
The moans and whimpers of men in slings and those bent over benches was accompanied by the projected images of TIM's latest horny scenes, matching the debauchery of the deepest circles of hell.
Going long and hard into the night, this party lived up to its hype and more. Grunts and groans filled the club on every floor of the venue.

This night is going to be one a tough one to beat – but we're already looking forward to trying.
Suzie Krueger, founder and promoter of Hard On, said: "Our joint birthday party with Treasure Island Media was a sell-out fuckfest. Thanks to everyone who came to celebrate with us. We'll make sure next year's is even filthier."
TIMFUCK is the premiere breeding site from Treasure Island Media. Bringing you brand new bareback every week and full movies every month.
Photo gallery
When TIM men come to play
We love throwing crazy sex parties in London. Here's a video from our previous Hard On party 10 years ago. Some things don't change…