ASSGASM ('as-ga-zam'): noun, an anally induced orgasm resulting in waves of pelvic convulsion and increased whoreishness...
ASSGASM is the new west coast Treasure Island Media movie from director ELLIOTT WILDER and featuring eight new tantric fuck and breeding scenes. ASSGASM includes a sweet sling gang breeding with JOHNNY CASTRO and a spectacular threeway with TIM fan favorite DREW SEBASTIAN and his new porn son RYAN SEBASTIAN tag-teaming BEAU NIK.
Scene 1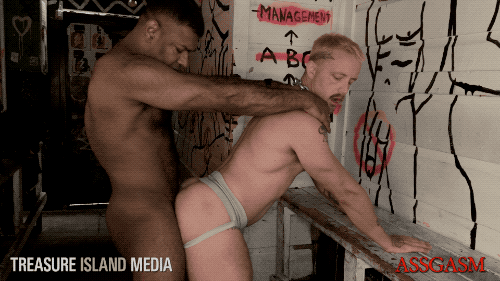 Talk about a bubble butt. Padlocked EROS meets up with MAGIC MIKE HUNG and services the big uncut veined snake between Mike's legs. Mike licks on Eros's hole to get it wet and open for the anaconda spreading of his cheeks and slides in deep as Eros dilates open to receive the big man cock.
The two men thrust pussy against dick until Mike takes over and uses Eros, deep ramming and slamming until his balls are slapping against the jockstrapped slut with the perfect round ass.
Eros pauses to taste his ass on Mike's cock before opening his legs for round 2 surrendering his cunt to Mike's hard fucking. The horny top pounds harder until he cannot hold back and his load of thick cum is inside Eros' hungry hole.
Scene 2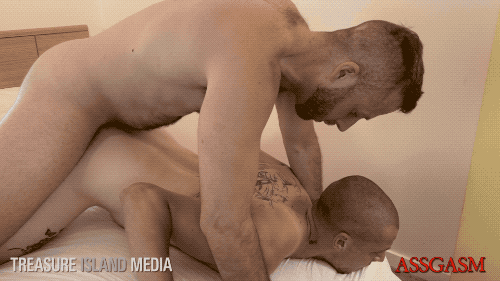 "Yeah, Fuck Me Bro!" is the motto of this scene. JOEL SOMEONE leads a master class in this hole training session teaching VINCE VEGA how to accommodate a man's cock and work his cunt as a vessel for dick (though we get the distinct feeling Vince already knows a thing or 2 about that). Joel has Vince worship his meat, teasing the hungry bottom and getting him ready to get fucked.
Vince squeals in delight as Joel takes his hole, fucking until Vega is left gaping and dripping in cum.
"Thank you, Treasure Island Media!"
You are welcome.
Scene 3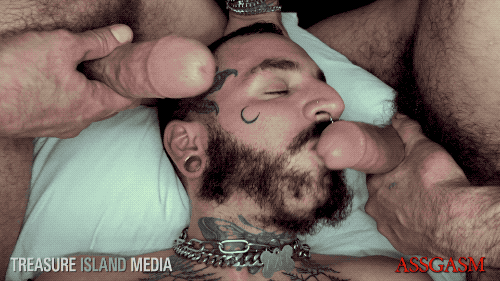 AXEL BLACK gets a tag team fucking from MAXX FERRO and RYAN POWERS. The only thing better than getting fucked and taking a load, is getting fucked and taking TWO loads. Axel and Ryan make out as Maxx tends to Axel's hole – rimming and fingering it and getting it ready for cock. When Axel turns around to greet Maxx's dick, Ryan takes the opportunity to slide his meat in and fuck. Axel's pussy it tight – but it won't be for long. Axel takes a hit of poppers and moves off Ryan's dick so Maxx can have his turn.
They switch positions again – now with Axel on his back getting his face fucked by Maxx while Ryan uses the hole until he nuts. Maxx Ferro loves fucking a cummy hole and proceeds to slide right in and pound away at the pussy until he cannot hold back and adds his jizz to Axel's now open hole.
Axel cleans off both dicks with his mouth like a good bottom should. Ryan licks the cum off the hole getting a taste of his own load mixed with Maxx's sperm.
Scene 4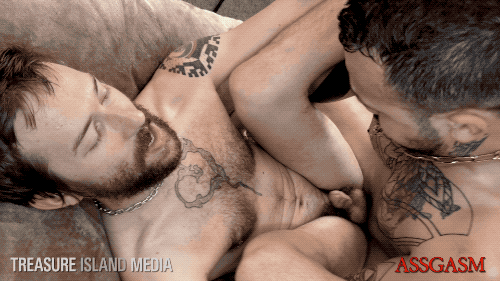 DEV TYLER meeting up with TYLER MONROE is a borderline tantric BF-like experience. Tyler sucks on Dev's cock while Dev works over Tyler's hole. They make out and Dev makes Tyler lick his armpits.
Pushing Tyler back on the bed, Dev slides his cock in while he thrusts his tongue into Tyler's mouth. Dev fucks Tyler good.
Tyler stops to try riding Dev's dick – but Dev likes to be the aggressor when he tops and soon is pushing him back down so he can fuck and breed him. Dev's butt looks good as it grinds up and down and thrusts in and out.
Tyler eggs Dev on, begging for the load, clearly sending the fucker over the top and Dev shoots, fingering his jizz back into Tyler's butt. Tyler licks all the leftover drops of cum off Dev's spent cock and then Dev licks his own cum off Tyler's ass.
Scene 5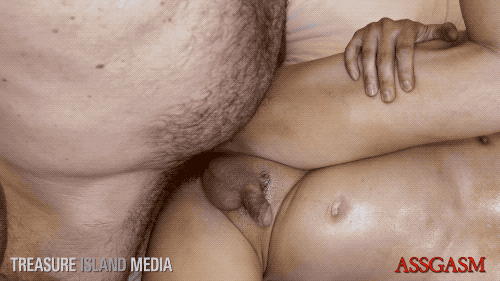 DREW SEBASTIAN is a Treasure Island Media legend and he and his cock only get better. RYAN SEBASTIAN contacted Drew and asked him if he would take him under his porn wing. This is how porn's first porn son came to be. We think once you get a look at Ryan's impressive cock you are going to want him to fuck you too.
Ryan suggested they get together to use BEAU NIK. Drew works over the new cunt while Beau sucks on Ryan's rock-hard cock. Drew knows how big his dick is and it is going to take some work to fit that massive meat in the tiny hole, so he has Ryan go in first to get it open, but expertly distracts Beau with his cock in the bottom's mouth as Ryan slides in and starts to fuck. We love how happy these men are as they start to fuck. Drew seems impressed with his boy's cock and how well he uses the hole.
Now that Beau is somewhat open from Ryan's cock – Drew positions him on all fours and squeezes his big meat in as Ryan holds Beau down on the bed helpless to get away from Drew Sebastian's mammoth tool, hard fuck and pussy target practice. Drew Sebastian coins the phrase "assgasm" as he feels Beau's hole clenching down on his cock.
The guys take turns letting Beau ride their cocks as the other fucks his face.
Drew decides it is time to cum and tosses Beau down on the bed and manhandles the kid until he squirts. Ryan is so worked up; he shoves his cock in the cum-lubed hole and uses Drew's load to work out his own – adding his cum to the frothy mess.
We think this is a fuck encounter of a lifetime that Beau is not going to forget. He cleans off both cocks with his mouth to make sure he has every drop of spooge inside.
Scene 6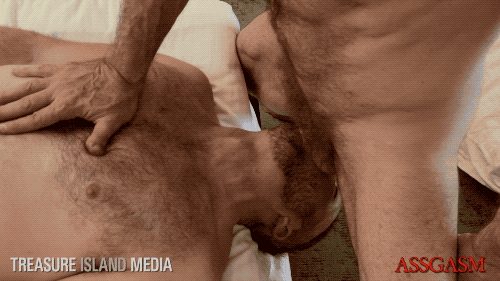 WILL TANTRA – the artist formerly known as NICK FORTE – is a tantric master. We know him from all the cock he has sucked on TIMSUCK and here he treats JOEL SOMEONE to a session that leaves Joel having true assgasms.
Will gives new meaning to anal probe as he digitally teases Joel's tight little man-hole and then rubs his cock up against the crack until Joel is begging to be penetrated. You would think Joel had never had a dick up his ass based on his reaction to Will's cock slipping in.
Joel gets on top and rides up on down Will's cock fucking himself. That's when the fucking really begins, as the head of Will's meat starts to hit Joel's prostate and Joel has the assgasm.
Daddy's is not done yet – he stills needs to nut, so Joel has to throw his legs up and expose his ass to cock and Will's explosion of cum.
Scene 7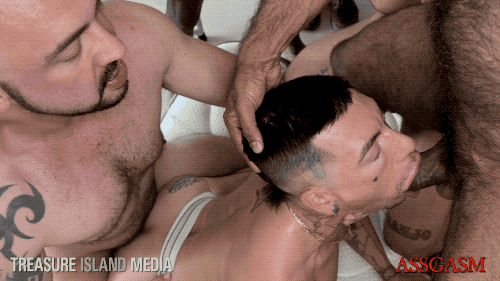 JOHNNY CASTRO is the center of attention from 4 eager and horny guys: CHANCE, LOGAN PACKARD, MAGIC MIKE HUNG and AUSTIN LACROSSE. Things get started on a mattress on the floor and before Johnny can suck any cock, Chance has already shoved his cock in Johnny's hole. These guys were told they were here to fuck and dispense with any pleasantries. Austin Lacrosse mounts next and pounds the hole open. Logan Packard checks out the pussy next. Chance penetrates again wanted to feel the hole warm and hot now that several dicks have been in it.
And this is all BEFORE they move to the sling!
Johnny is laid up on the sling legs spread wide with his hole fully exposed and there to take cock. The men take turns one after the other like galactic hole invaders. When the guys are not fucking, they are circling the bottom and sticking their cocks in his mouth to get wet and keep hard.
These guys got the memo – this is a gang breeding and as soon as the first guy shoots each man steps up and dumps his load. Some feeding any stray jizz into Johnny's mouth.
After all the cum has been put in Johnny's pussy, he gets down on his knees to clean them all off as a final thank you for the loads.
Scene 8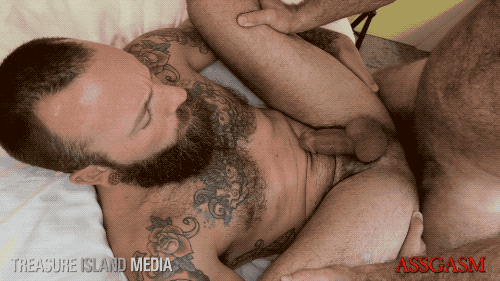 NATERBATOR (what a great name!) aka NATHAN BATES gets together with handsome salt and pepper muscle man LANCE CHARGER. Naterbator sucks on Lance's rod and then expertly places his man-hole in Lance's face so he can get rimmed while continue to suck the dick. Nathan – who has a gorgeous beard and mustache – is quite a good cocksucker and Lance enjoys fucking his face before Lance returns the favor.
Honestly, we were not sure who was going to be fucking who here until all of a sudden, Naterbator throws his legs up displaying his hole and Lance slides his shaft right in. He really goes to town burying his cock deep and power jackhammering away at Naterbator's ass.
Naterbator gets on top of Lance's dick and rides it, doing his best to milk the cock and feel the full girth inside his rectum. Lance gets the boy on his back and starts to fuck to cum. His abs look real good as he thrusts in and out at a fever pace until he nuts. After he pulls out, Lance reaches into the boy's hole and gets some cum for Nathan to taste right out of his ass.
They are not done. Lance asks "You wanna eat my hole?" and Naterbator responds "Fuck yeah." Lance is a gentleman and he knows Naterbator has not cum yet, so what better incentive to get him to jizz than sitting on his face? He isn't wrong!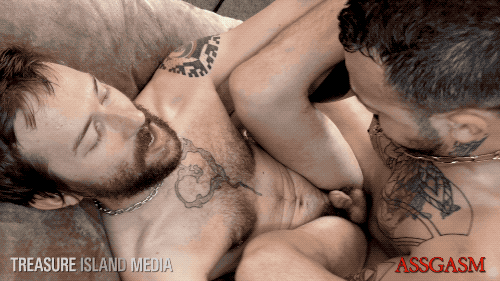 TIMFUCK is the premiere breeding site from Treasure Island Media. Bringing you brand new bareback every week and full movies every month.
ASSGASM features:
AXEL BLACK, CHANCE, LANCE CHARGER, EROS, MAXX FERRO, MAGIC MIKE HUNG, AUSTIN LACROSSE, TYLER MONROE, NATERBATOR, LOGAN PACKARD, RYAN POWERS, JOEL SOMEONE, WILL TANTRA, DEV TYLER, and VINCE VEGA