Treasure Island Media celebrates its return to Europe by joining notorious London sex and fetish club Hard On for the studio's first UK fuck party in 10 years.
The infamous Hard On club is throwing its 19th birthday party in October, a year ahead of the 25th anniversary of Treasure Island Media, one of the longest-running gay porn studios in the world.
Now the legendary studio is teaming up with the Hard On club to host one of the filthiest fuck parties London has seen in a decade, filled with sex, fetish and fucked-up fun.
Advance tickets for the rare club night, which takes place on Saturday October 15, 2022 from 10pm-5am in Vauxhall, London, are now on sale and can be bought via Skiddle.
As well as the usual top fetish DJs, massive dark rooms and a laser-lit dance floor, the Hard On Treasure Island Media party will be packed with extra treats.
There'll be a raunchy stage show, sneak previews of new Treasure Island Media porn, free giveaways, and goodie bags filled with the best TIM merchandise to be won. The first 50 people to join the queue on the night will also receive a limited edition gift. 
Every partygoer will also receive exclusive discounts and deals on TIM memberships, so you don't miss the new all-British TIM porn when it goes live later this year.
Event details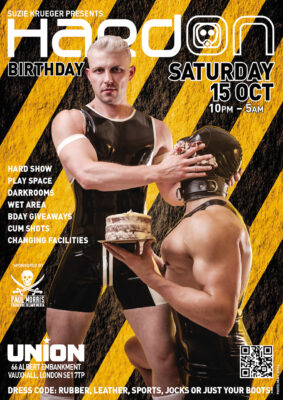 When: Saturday, October 15, 2022. 10pm-5am.

Where: Hard On, Union Nightclub, 66 Albert Embankment, London SE1 7TP

Dress code: Hard On enforces a strict dress code of rubber, leather, sports, jocks, harnesses, neoprene, or nothin' but your boots.
It's going to be one of the best fetish club nights London has seen in years. I hope to see as many people as possible getting sweaty and untamed in the darkrooms with me.

Tommy Trash
Hard On's founder Suzie Krueger said: "It's great to have Treasure Island Media back in London, joining Hard On to throw one of the raunchiest fetish parties we've held in a long time.
"Hard On birthday parties are the biggest and filthiest events of the year, so who better to share it with than the kinky guys at Treasure Island Media who always know how to get dirty and have fun.
"It's been 10 years since Treasure Island Media's last event with us, and what a packed-out party that was! I know everyone will have a lot of fun and I hope as many people as possible can come and celebrate with us. This one-off club night is not to be missed so get your tickets and don't miss out.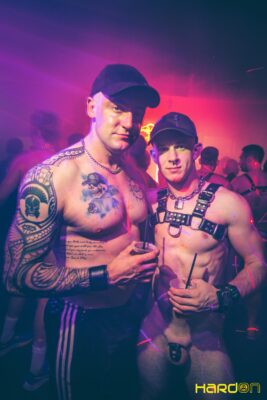 "I'm so proud to have achieved 19 years of Hard On this year, London's best and horniest gay fetish club. My team and I work hard to make Hard On the best event we can and I want to thank all our loyal customers and all the new guys who come and check out our party every month."
Earlier this year, Treasure Island Media's all-new UK production team rebooted filming in Europe, searching for men who love to fuck and shooting the most authentic porn from the UK and beyond.
The TIM Europe team is on the hunt for men to film as they ramp up the studio's European production schedule into 2023.
TIM stars past and present along with the new Treasure Island Media production team will be joining the party next month ready to dance, chat, answer your questions about filming or just fuck the night away.
Tommy Trash, Head of Treasure Island Media Europe, said: "I'm thrilled to be bringing Treasure Island Media back to the UK scene and I can't wait to celebrate with our fucked-up Hard On birthday bash. It's going to be one of the best fetish club nights London has seen in years. I hope to see as many people as possible getting sweaty and untamed in the darkrooms with me.
"Whether you've been to one of these parties before or are totally new to it, please come and join us to celebrate the return of Treasure Island Media to the UK. We're not just a porn studio, we're part of the culture and community of sex-positive guys in the UK and Europe, free from all bullshit or judgment.
"Everyone is welcome to meet our models, watch some porn, win some exclusive TIM gear and dance and fuck until the sun comes up. It's going to be one of the wildest club nights London has seen in years. "
Treasure Island Media marks its 25th anniversary in 2023, and will celebrate with a year-long series of stories and events about the studio's achievements, controversies and milestones – the inside story on the first gay bareback porn company in the world.
It was founded in 1998 by Paul Morris to reflect his love for filming real and raw sex between men without the silly storylines. Over a quarter of a century, the studio has pioneered a no-limits approach to capturing the entire range of male sexual play.
For more information about the Treasure Island Media / Hard On fuck party, email Tommy Trash via tommy@treasureislandmedia.com.
TIMFUCK is the premiere breeding site from Treasure Island Media. Bringing you brand new bareback every week and full movies every month.